Room rate:

Double or twin room, ventilated or air conditioned

39 € TTC

Triple room

49 € TTC

Family room

69 € TTC

The price of the room includes the tourist sticker of 1.2 €

The room price does not include breakfast

Catering prices:

Breakfast

5 € TTC/pax

Half board

18 € TTC/pax

Menu E, P, D

31 € TTC/pax
The hotel offers 17 rooms spread over three levels distributed as follows:
-Level 1: 1 family room (air-conditioned, ventilated), 1 triple room, 1 double room and 2 double rooms convertible into twin (including 1 air-conditioned)
-Level 2: 6 air-conditioned rooms including 2 double rooms and 4 double rooms convertible into twin, 2 ventilated rooms
-Level 3: 4 ventilated double bedrooms, 2 of which can be transformed into triple and twin.
The restaurant, bar and swimming pool are located on the third level.
A la Carte and Daily Menu are offered at the Restaurant.

Payments:
Payments can be made by bank transfer or cash payment in Ariary or Euros to our BMOI account.
We accept cash payments in Ariary or Euros.
Credit card payments (VISA only) will be increased by 3%.

Transfers:
The hotel offers transfers between the establishment and the airport, the port of Hell Ville or any other requested route. The vehicle is a Hyundai Starex with 7 seats without luggage or 4 seats with luggage.
The tariff is 20 euros including tax for the airport and 10 euros including tax for the port. The other journeys will be made on estimate.
Conditions of sale :
1 / All reservations must be made by email with confirmation by the hotel.
2 / A deposit of 50% of the amount of the reservation must be made no later than 30 days before the arrival of customers
3 / In case of cancellation between 15 and 30 days before the arrival of customers, the costs will be 30% of the amount of the service. Less than 15 days before the scheduled arrival date, the fees will be 50%.
4 / The balance of the amount of the service must be paid before the departure of the customers.
Our RIB:
BMOI Boucaniers Account
Account holder: Les Boucaniers Sarl - Ambatoloaka Nosy-be 207
Bank: BMOI (Hell Ville - Nosy Be - Madagascar)
Bank code: 00004
Agency code: 00026
Account number: 016111920101
IBAN: MG46 00004 00026 0161192010130
BIC: BMOIMGMG
* Breakfast with homemade products"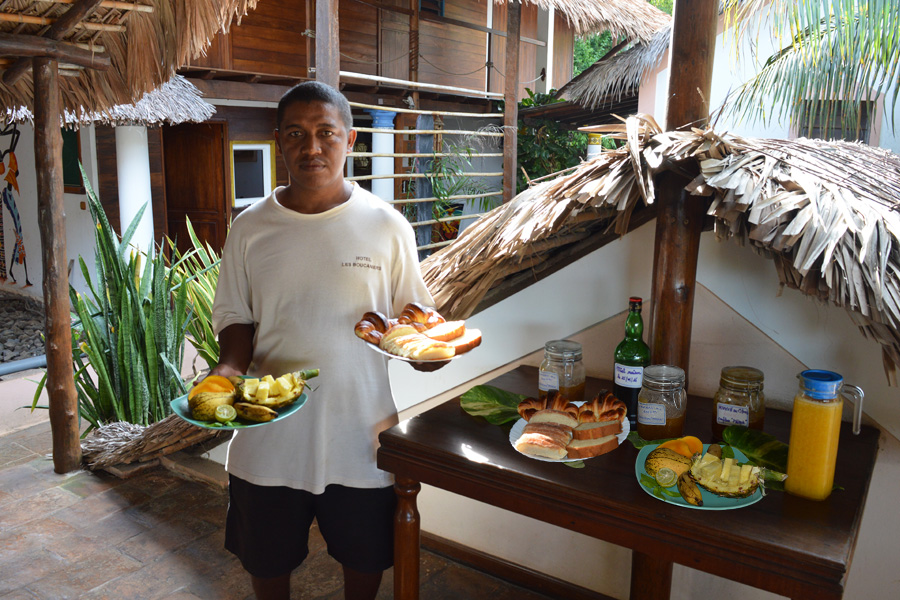 Pineapple, mango, mango/lemon ... jams
Honey from the bee hives
Croissants, crepes, cake, bread
Fresh fruit juice
Fresh fruit
Coffee, tea, chocolate
Served on the terrace with a beautiful view on the Ambatoloaka Bay